15th April 2019
Posted in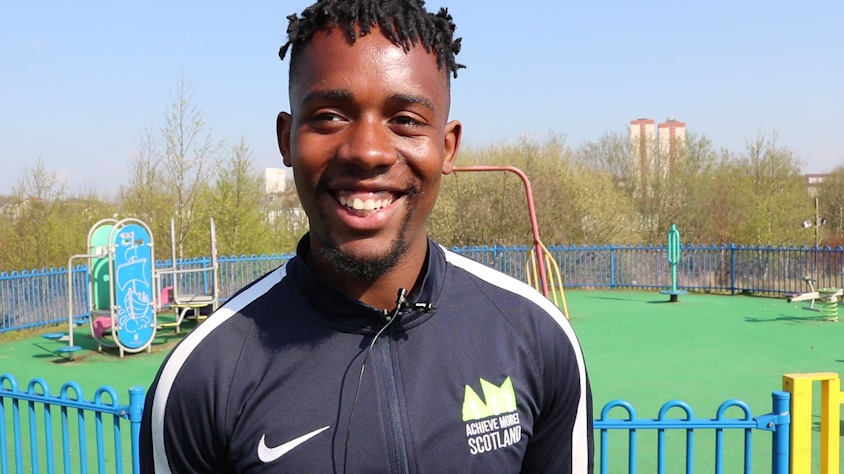 Kevin, 21, is a CJS employee withAchieve More Scotland. Here he shares his experience of the programme:
"First I was a participant so I was just like the kids we have at the Easter camp. Playing football, getting involved, making friends and stuff like that. Then after that a few years of that I started volunteering, then a while after that I got given a 25 hour a week contract through CJS which I'm still on until June 2019.
"Basically I work in a primary school doing gym classes with kids of all ages – preschool to P7's – doing things like PE, sports, football, games, things like that.  It's enjoyable. That's Monday to Friday. Then on Friday nights we work with older young people – ages 15 to 18 – and run football games, schemes versus schemes. It's good cause on a Friday, young people here can get involved in a lot of bad things, so if we can put this kind of thing on for them it keeps them active, productive and away from trouble.
"My personality and the way I conduct myself has improved a lot over the years. I'm more confident in what I do. I know that my job first and foremost is to help kids from deprived areas and encourage them to go on and do good things, so I always say practice what you preach. With this job you're always in the public eye, working in schools or the camps we run, so the way you conduct yourself is really important. That's given me the confidence to go on and do my job day to day.
"A lot of people – like myself, back in the day – don't know what the next thing is when they leave school, it's normal. Some maybe never done so well at school or done ok but don't know what's next. I would recommend CJS to anyone like that – any young person who doesn't know what their next move should be."