Frank's Law means that people under 65 who were not previously entitled to free personal care are now eligible for support. The legislation is a real step forward in delivering progress for some of the most vulnerable people in our society.
Miles Briggs, CONS
Age Concern Scotland led a lengthy campaign to introduce free personal care for older people in Scotland.
In 1999, a Royal Commission was set up to look at options for a sustainable system of social care for the elderly. Its report recommended that personal care should be available in all settings, free at the point of delivery in tandem with the health service and paid for by general taxation.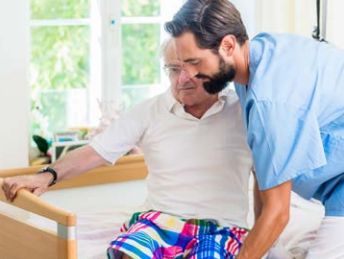 The UK Parliament rejected the proposals but Age Concern Scotland – together with a range of organisations concerned with issues affecting older people – continued to campaign for change when the new Scottish Parliament was set up.
Maureen O'Neill, former director of Age Concern Scotland, said: "Our starting point from the outset was one of inequality. Under the NHS care is free at the point of delivery, but not in people's own homes or care homes. Our contention was that investment in older people had always been ignored and with an ageing population, the need for strategic long-term planning was imperative.
"Our biggest challenge was that our colleagues in England and Wales didn't agree with the introduction of free personal care, so Scotland was on its own. Devolution gave us the opportunity we needed and we worked with other pensioner organisations to call for equality of access. It was very much a team effort. The then health minister Susan Deacon wasn't very keen – the key concern was cost."
The campaign received widespread media coverage. The turning point came when Henry McLeish (Labour) spoke in support of free personal care at a major Age Concern conference in Kirkcaldy – on the day he became First Minister.
O'Neill said: "It was like a dam bursting. The government ran with it and the legislation was supported unanimously in parliament. Free personal care was engrained in Scottish policy, the result of the combined power of democracy, devolution and determination."
The Community Care and Health (Scotland) Act introduced free nursing and personal care for the elderly on 1 July 2002. All personal care charges for people cared for in their own homes and in nursing homes were abolished. Personal care includes personal hygiene, continence management, food and diet, help with mobility and medication.
A Scottish Parliament Health Committee inquiry in 2005 concluded that the policy enabled more people to receive care at home; reduced delayed discharges, freeing up NHS resources and largely ended disputes between local authorities and health boards over the care of elderly people.
And the legislation has been expanded just this year. Frank Kopel, a former Dundee United footballer, was diagnosed with early onset dementia at just 59 and died aged 65 in 2014, just weeks after he qualified for free personal care. His widow Amanda Kopel campaigned for free personal care to be extended to everyone who requires it, regardless of age. Subsequently, the Scottish Government agreed to extend free personal care to younger people with degenerative conditions.
Previous: Continue to Care Next: Scottish Welfare Fund
Page last modified on 30th January 2020