With child poverty rising and reliance on foodbanks increasing alarmingly, children need a free and nutritious meal at least once a day including during school holidays.
Elaine Smith, LAB
Many adults have memories of their school dinners, more often than not negative memories. However in recent years there has been a drive to improve the quality of school meals, and most importantly to ensure they are available to all.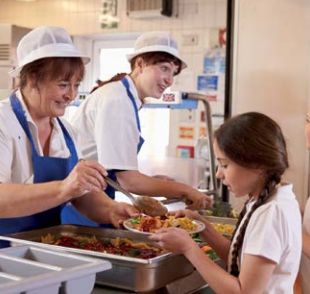 The Scottish Government introduced free school meals for all children in primary one to three in January 2015. The initiative was the result of a long-fought Scottish Free School Meals Campaign, led by Child Poverty Action Group (CPAG) in partnership with other organisations including One Parent Families Scotland, the Poverty Alliance and other children's charities.
This was an extension to the previous policy of offering free school meals to children and young people from families on low incomes in receipt of certain means tested benefits. A School Meals (Scotland) bill to introduce universal entitlement was introduced in the first Scottish Parliament in 2002 by MSP Tommy Sheridan (SSP), co-sponsored by Alex Neil MSP (SNP) and John McAllion MSP (Labour). The bill was defeated but the Scottish Executive implemented the recommendations of the Hungry for Success report to increase the take-up and quality of school meals. In May 2005 another Scottish Socialist MSP Frances Curran lodged a proposal for a new School Meals (Scotland) bill, but this too was defeated.
The Education (School Lunches) (Scotland) Regulations 2009 extended entitlement to the children of parents receiving maximum Child Tax Credit and Working Tax Credits, while 16 to 18 year olds getting these benefits in their own right could also claim free school meals.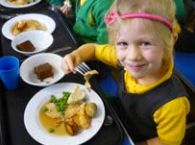 A Scottish Government announcement in 2014 to provide free school meals to p1 – p3 pupils was followed by an amendment to the Children and Young People (Scotland) Act. It gave ministers the power to require local authorities to provide free school meals to all children in selected year groups. The government awarded councils extra funding to implement the policy, which affected 135,000 children.
John Dickie, director of CPAG in Scotland, said: "We had disappointments along the way but kept pushing the issue working in partnership with others in the voluntary sector. We did a lot of work with opposition parties, as well as the Scottish Executive, speaking at fringe events at party conferences as well as helping build a strong civic society coalition of support.
"Eventually we were successful in getting the SNP to commit to piloting free school meals for all in P1 to P3 in the run up to the 2007 parliamentary election and include it in their subsequent local government concordat agreement."
The universal provision of free, healthy school meals has proven benefits in relation to uptake, family budgets, educational attainment, public health and addressing inequality. It also removed the stigma of means testing for children from low income families.
Previous: Scottish Welfare Fund Next: Human Trafficking and Exploitation
Page last modified on 30th January 2020